After we actually reached the one month where nobody posted on this blog, this would actually mean it is probably dead. However this could happen, I don't know. But… I will now take you with me on a journey of a few days here in Bournemouth in England. I returned in the third year to do a show for the Big Little Theatre School and once again, I have been doing mad design work as I tried to design 17 completely different musicals for one show.
For the next days here I will try to take you with me on a journey, not only through the different states of the work process, but also into my mindset. Coming to England always provokes different feelings in me and not all of them are entirely positive. But let's start in sunny and hot Zürich, on this Friday the 9th of July 2010…
I am approaching the train that connects the main terminal building with the E-Gates. This is where my lovely orange (guess who is flying me to London… – yes, I know it was quite easy…) aircraft A320 is waiting for me. But there is still a long way to go before I can actually board the plane. The very accurate lady at the security checks for example (who refuses to talk to me in German but keeps replying to my German answers in English – how odd…) holds me up for a little while because I have a dangerous item in my bag. Even after personally inspecting the x-ray image of my possessions I have no clue of what appears to be extremely dangerous – and so I end up emptying my bad and having it x-rayed again and again to eventually finding an DMX 3 to 5 pin adaptor that turns out to be the dangerous item. I think from now on the guy at the check-in will add this to the list of dangerous goods…
So while putting my belt back on (and trying not to lose my laptop and camera besides the other stuff I am juggling while walking to the gate) I am approaching the large crowd of people that looks like it has gathered around a small little desk where they must apparently give away free food and drinks. At least the behavior of the crowd lets me think this. It turns out that this is all down to the brilliant Easyjet idea that free seating is a good idea.
I step back and let all the people that still haven't understood the system of boarding groups, speedy boarding, families with small children under 6, no more than 1 piece of hand luggage, easy card plus, easy card plus gold, easy diamond plus gold minus silver card and so on, have their go at the check-in lady. Obviously they all have not purchased what was necessary to enter the plane before everyone else and so they all end up where they were before. And the one person that actually was stupid enough to buy a ridiculously expensive speedy boarding ticket combined with the golden diamond and platinum card is proudly entering the gangway to the aircraft – just to get knocked over by the 6 (!!) obviously helpless women with small children that have picked up so much momentum while running down the gangway that they lost control of their high-tech prams (where they are also hiding 5 additional pieces of hand luggage) and are now crashing into the open door of the aircraft.
So when I finally manage to arrive at the bastion of Easyjet – the senior cabin crew member, who is the felt 5th person to check my ticket (after the boarding pass inspection, the security control check, the passport and boarding pass check – with permission stamp – and the gate-check) I feel like having been on a turkish bazaar. I fall into my seat just to find out that the senior cabin crew member might actually be my Easyjet highlight when she says: "Good morning ladies and gentlemen – if I promise you that the front and the rear of this aircraft will both be lading in London today, would you then please go down the back first and fill up the plane from there?". I like people that do things differently and follow their own style. And she is unique. "This aircraft has 3 toilets – two in the back and one in the front. All of them are equipped with baby changing units and unfortunately also with a smoke alarm. So please don't smoke there. If you are not nice and follow this advice it will be my pleasure to show you our secret balcony." "We will come around once again for any rubbish, newspapers, credit cards, babies and little children you don't wanna take with you." And so it goes on. I had a fun time with her and wished more flights were like that. By the way, she looked just like Whoopie Goldberg and I am sure if Whoopie wasn't an actress she might have become the funniest flight attendant of all times.
A good hour later I arrive at my destination (apparently "Welcome to Copacabana – the sun is shining") I realise I am back in England and the question whether HSBC owns all UK airports comes back into mind once again. With my heavy trolley with scripts, plans and clothes – that happens to arrive together with me at the baggage belt – we go off to find the train station and the ticket machines. After having had the choice of at least 20 different ticket options between 16 and 104 GBPs I decide to buy the ticket off the nice guy at the counter and pay 11.40 GBP. He also sends me to the right platform with instructions where to change. I seem to look a little hard of understanding as he keeps shouting where to change after me while I am already leaving the station… odd moment.
The past couple of days I had no desire to go to Bournemouth. I don't like traveling with computer, camera, all sorts of stuff and a huge suitcase on any train – but especially not in England where there are no escalators. And no space to store it on the train. And no seat on the train where you could already not store your suitcase. And ice cold aircon. Or no aircon. – Am I complicated?


Everytime I come to England there is this emotional undertone which doesn't feel good. I have tried to find out where this comes from, because I have been living in this country for three years and I did indeed have a great time then. Probably the best time ever. But the picture of England as a country has also been damaged over these three years. It became cracks and like the country itself, the paint flakes off. To me it seems the country missed the right moment to realise that the former empire does not exist any more. That there are a lot of problems and that a vast part of the population has been left out of the good times. That there is a working class of which an escape seems difficult. That the country as a whole has an alcohol problem and that the word "pub culture" actually is a cover that only works for so and so long.
But is that it? I don't know. I like Bournemouth in the summer. When the sun is shining like today, it is a really nice town. With old trees along the streets. With the sea near-by. With the opportunity to design lighting for a 1500 seat theatre. With people that are interested in theatre.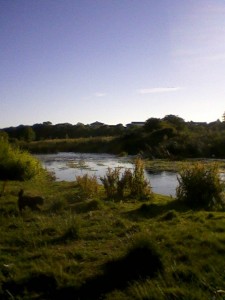 And still there is some negative touch that I didn't have before I lived here. A friend of mine keeps saying that it seems like I really don't like England anymore. Is that true? Maybe it is just me not being able to adjust again. Being used to a structure that is different to the one here might make it difficult to adopt again. But then I mean still, this is not an answer.
When I arrived here – I am staying with a lovely family – I went for a walk in the surrounding area. There is a golf course next door basically and it is also a park for everyone to enjoy. That is when you eventually find the bench(es) of which there are some. I sat at a nice little river and the sun was slowly setting and it was very nice. Calm in a way. Over the past weeks while working on this project – and solely working on this one project) I realised it was good for me not to be working in my job for almost three months now. It took this time, together with some physical distance, to actually calm down my mind and not think of it all as a pile of rubbish. I have feeling that I have to be very careful in the future of how I look at the job. Because I feel I was very close to lose the most important asset there is in our business: Passion. I would not go as far as to say that I regained it completely. It seems it is buried somewhere and over the past weeks I have slowly started getting the layers of dust and dirt that have come to cover it up removed. But still – I have not retrieved the treasure yet.
OK. Don't think I want to compensate for all the months where I posted nothing or very little… 😉 And don't expect it to be such long – and random – posts every day now. But I feel that I have the time now. And the right topic. So here we are. Oh, and very nice… The people here seem to think of me. Now that I tried driving on the left side of the road on Cyprus – scary thing to do – in the UK they wanna make sure I find the right way and have even translated the instructions for me: (Maybe this one only works for people with a German background…)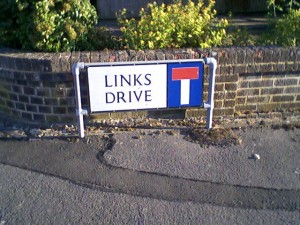 Good things happen every day. Bad things too. It is called life.